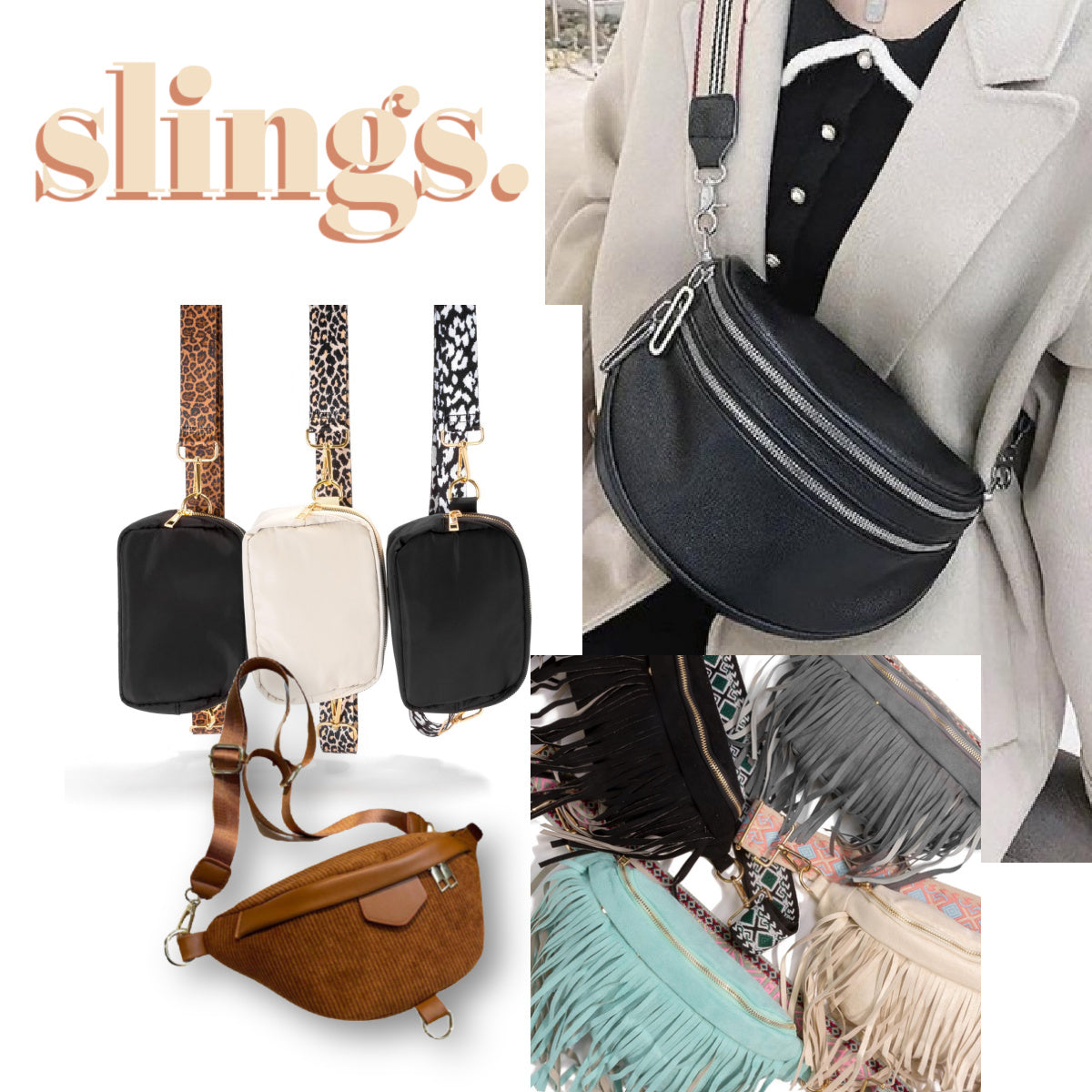 Sling Bags Trending Now
**Embrace the Trend: The Rise of Sling Bags for Effortless Style and Functionality**

In the ever-evolving world of fashion, trends come and go, but some innovations manage to capture both style and functionality, becoming staples in our wardrobes. Sling bags have swiftly ascended the fashion hierarchy, offering a versatile and practical solution that seamlessly adapts to various occasions and lifestyles. From the casual to the chic, sling bags have made their mark as a must-have accessory for those who value both fashion-forward choices and practicality.

**A Style Evolution: From Belt Bag to Shoulder Companion**

Sling bags, often referred to as crossbody bags, have taken the fashion scene by storm, and for good reason. Their design allows you to effortlessly switch between styles, transforming from a sleek belt bag that accentuates your waistline to a trendy crossbody statement piece. Imagine the convenience of having a single accessory that effortlessly complements your outfit, whether you're strolling through a bustling market or attending a sophisticated evening event.

The charm of sling bags lies in their adaptability. When you're out for a day of exploration, sling it across your body for the ultimate hands-free experience – perfect for snapping photos, browsing local boutiques, or enjoying a coffee on the go. Should your day take a more formal turn, wear it as a shoulder bag to exude an air of refined elegance. The transition is smooth, allowing you to elevate your style effortlessly.

**Security Meets Convenience: Your Possessions, Close and Hands-Free**

One of the most significant advantages of sling bags is their ability to keep your belongings close and secure. With the bag resting snugly against your body, you can navigate crowded streets, public transportation, or even bustling festivals with confidence, knowing your essentials are within easy reach and protected from prying hands.

The hands-free nature of sling bags is a game-changer. Whether you're a seasoned traveler exploring new destinations or a busy urbanite juggling multiple tasks, having your hands free is a luxury that shouldn't be underestimated. Sling bags empower you to move seamlessly through your day, from work to play, without the burden of carrying a bulky tote or the constant worry of setting your bag down and losing track of it.

**In Conclusion: Embrace the Sling Bag Revolution**

Sling bags have emerged as more than just a fashion trend; they are a lifestyle choice that perfectly balances style and functionality. Their versatility, allowing you to effortlessly switch between belt bag, crossbody, and shoulder bag styles, makes them a go-to accessory for any occasion. Moreover, the security and hands-free convenience they offer set them apart as an indispensable addition to your wardrobe.

As you navigate your dynamic and busy life, consider embracing the sling bag revolution. Elevate your style, simplify your routine, and revel in the freedom of having your essentials at arm's length – all while looking effortlessly chic. Join the ranks of trendsetters who have already recognized the undeniable charm of sling bags and make a statement that seamlessly blends fashion with practicality.